Logging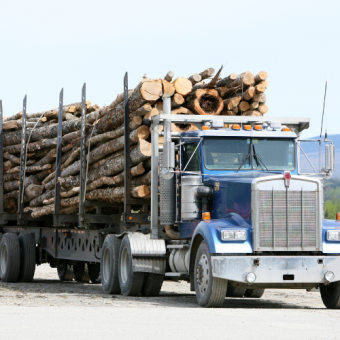 Logging Truck Insurance
You have tough work and long hours suppling the raw materials to create everything from houses to pencils. You encounter many unique risks with your line of work and we at V.I.V. Insurance want to make sure you're properly covered so you can get back on the road and hopefully find you some discounts on your premium in the process.
Auto liability- This type of insurance will protect you and your business if you or an employee is involved in an accident and found to be at fault. Liability Insurance will cover bodily injury claims, financial support for the medical expenses of the injured party, and financial reimbursement for the property damaged during the accident. This coverage can also cover expenses for attorney fees related to your defense.
Your insurance policy can be structured as a combined single limit or split limits. A combined single limit is a flat amount that applies to any combination of bodily injury and property damage liability claims. While split limits are three separate dollar amounts apply to each accident: per person limit, per occurrence limit for all injured person, and per occurrence.
Uninsured/Underinsured Motorist Insurance- If your truck is damaged or you get injured from another party that does not have insurance or does not have adequate insurance, this coverage can help pay the difference of expenses incurred.
Physical Damage (Comp/collision)-coverage that will pay for damage caused by an incident rather than an accident. Typically, this covers severe weather, theft, or vandalism.
Medical Payment /PIP -covers medical payments from injuries that occurred during an accident. PIP Insurance covers the policyholder as well as passengers.
Federal or state filings- This document is required by the FDOT to show that the policyholder has adequate financial responsibility to operate their vehicle.
If you own your logging truck and/or business you will also need business insurance coverage. The most important of those coverage are General Liability Insurance and Workers Compensation Insurance.
General liability- protects your business if you're sued for personal injury or property damage. A typical policy will cover those accidents or damages that occur on-site or because of using goods or services sold by the company. In addition, coverages can be designed to cover additional costs like attorney fees or court costs.
Workers Compensation- Coverage and benefits can be obtained for the worker no matter who is at fault. For those workers injured in the workplace, medical expenses and income replacement may be necessary.
Let one of our Trucking Insurance specialists find the right coverage for you today. . Contact us to find out more about truck and trucking insurance in Fort Walton Beach, Crestview, Baker, Defuniak Springs, Holt, Milton, or Pace.